CM Punk has been in the news lately for various reasons, and it seems like the former WWE Champion is finally coming back to WWE. CM Punk appeared on Collider Live to promote his new movie, 'Girl on the Third Floor'.
During the interview, Punk confirmed the reports of him trying out for the new WWE show on FS1. WWE has confirmed Renee Young and Booker T to be the hosts for the WWE Backstage show which begins next month. However, it was widely reported that Punk could be an addition to that team.
[adace-ad id="7797″]
[adace-ad id="19218″]
"Yeah I did it. I'm very much in a position where, 'Well come talk to me.'"
"I'm open to anything. If they come to me with, 'Hey we want you to wrestle,' I'll say, 'um, I'm not interested'."
[adace-ad id="7795″]
CM Punk also revealed how much he has changed over the past few years. Punk said that he is ready to put the past behind him, and is open to anything at this point, which may not necessarily include stepping inside the squared circle once again.
"I've grown so much as a person and I look back at all the stuff and I don't need it. I don't need the confrontation and I don't need the drama. But I'm a businessman. I also put my morals and my integrity above business deals. If you want me to do anything, well OK, come talk to me but don't waste my time."
[adace-ad id="3395″]
[adace-ad id="7792″]
Punk is quite close to signing a deal for the FS1 show, but it seems like he could be wrestling in a WWE ring soon. WWE COO Triple H also brought up the Punk topic in a recent interview with Sports Illustrated.
Triple H said that he is aware of the CM Punk situation, and clarified that it's FOX who's dealing with Punk and not WWE. The Game further added that he is willing to put the past differences aside and go for a fresh start.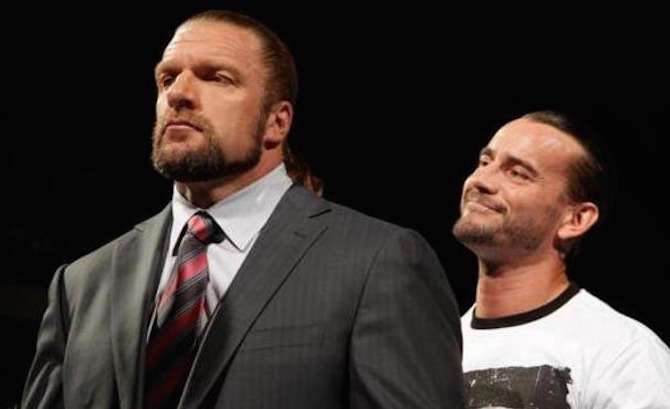 [adace-ad id="19202″]
"If the opportunity is right for everybody and it's right for our fans, then we are willing to put the past behind us and move forward. So, I would say, never say never, but that's also probably a long way from coming to. I don't know. That's also a little bit outside of my purview at the moment, but like I said, never say never."
Could CM Punk be a surprise on the Friday Night SmackDown debut on FOX? Only time will tell.