Jeff Hardy was arrested by South Carolina police on Saturday. According to CNN, he was charged with public intoxication.
The police had been responding to reports of an intoxicated person at Myrtle Beach at around 11 AM. They found that it was Hardy and arrested him.
Hardy was "arrested without incident" and charged with public intoxication. He posted bond ($153) and was released on that same day.
[adace-ad id="7797″]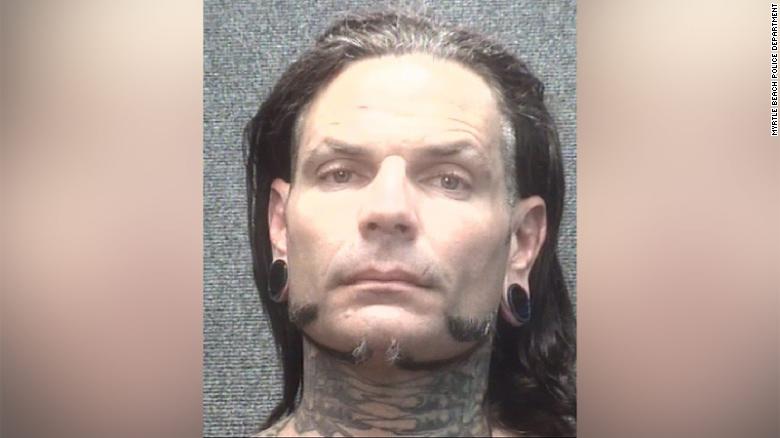 Hardy has been off WWE TV after suffering a knee injury that required surgery in May. WWE released a brief statement about the incident, stating that "Jeff Hardy is responsible for his own personal actions."
Hardy has a history of problems with drugs and alcohol. Last year, he pled guilty to a drunk driving charge, this time in North Carolina. He was given 48 hours of community service and alcohol counseling. He also had to turn over his license and pay a $300 fine.
[adace-ad id="19218″]
[adace-ad id="7795″]
Tamina Concussed During Live Event?
Reports are circulating that WWE Superstar Tamina may have suffered a concussion during a live event in Augusta, Maine last Friday.
Tamina was teaming with Sarah Logan against Naomi and Dana Brooke during the event. Naomi and Brooke won the event after Tamina was pinned after a knee to the head and split-legged moonsault from Naomi.
According to fans in attendance, it would seem that Tamina was concussed as she was out of it after the match. Trainers rushed in to check on her and she needed to be helped backstage.
[adace-ad id="7792″]
While there has yet to be an official statement from the WWE regarding Tamina's status, it has been noted that Tamina was not working during Saturday's live event at Springfield, Massachusetts.