Over the last two weeks, 2K Games announced the names of 135 Superstars scheduled to be on the roster of the upcoming WWE 2K19 video game. This week, the video game studio has revealed the names of 55 Legends from WWE's glorious past.
The announcement was made by WWE Superstars Rusev, Lana and The Bar (Sheamus & Cesaro) during a live stream.
[adace-ad id="7797″]
Here are the 55 Legends announced by 2K in the third part of the roster reveal:
Ric Flair
"Rowdy" Roddy Piper
Dusty Rhodes
"Macho Man" Randy Savage
Ricky "The Dragon" Steamboat
Undertaker (Big Evil – 2002)
Rey Mysterio
Kurt Angle
Batista
Eddie Guerrero
Trish Stratus
Ultimate Warrior
The Rock
Andre The Giant
Booker T
Mr. Perfect
Jake "The Snake" Roberts
Alundra Blayze
Diamond Dallas Page
Lex Luger
Sting
Ricky Morton
Robert Gibson
Shawn Michaels
"Million Dollar Man" Ted DiBiase
Rikishi
Lita
Razor Ramon
Kevin Nash
Bret Hart
"Ravishing" Rick Rude
Christian
Papa Shango
Goldberg
Bam Bam Bigelow
Big Boss Man
Beth Phoenix
British Bulldog
Brutus "The Barber" Beefcake
Diesel
Edge
Greg "The Hammer" Valentine
Ivory
Jacqueline
Jim "The Anvil" Neidhart
Kane
Mr. McMahon
Rick Martel
Scott Hall
Stephanie McMahon
"Stone Cold" Steve Austin
Tatanka
Sycho Sid
The Godfather
Vader
[adace-ad id="3395″]
[adace-ad id="7795″]
Players can unlock the Legends by purchasing them with virtual currency in-game.
After suffering a consecutive two-game absence, 2K Showcase returns this year and will feature The Return of Daniel Bryan. Fans can relive Bryan's long and storied career in the showcase mode which is beautifully narrated by the former WWE Champion in his own words through a series of high impact video packages.
[adace-ad id="4959″]
[adace-ad id="7792″]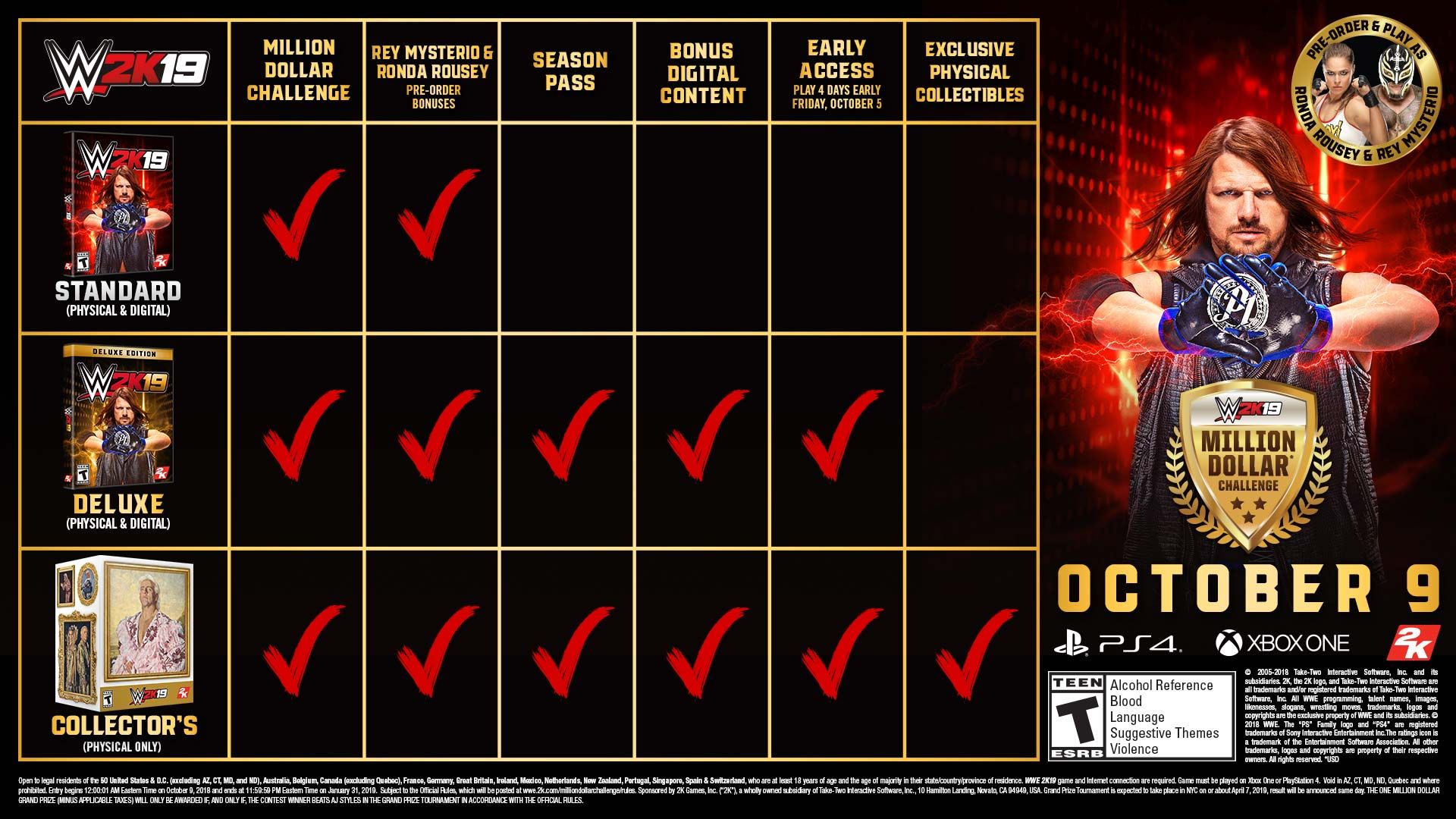 WWE 2K19 can be pre-ordered here. The game is set for worldwide release on Playstation 4, XBox One and PC on October 9, 2018. Fans can pre-order and play four days early (October 5).
Ronda Rousey and Rey Mysterio are the pre-order bonus for WWE 2K19. AJ Styles is the cover Superstar.
Check out the first 75 Superstars and the second set of 60 playable wrestlers announced for WWE 2k19.