AEW presented its second event in company history with Fyter Fest, a show held in collaboration with the CEO fighting video game event. The wrestling was offered free of charge on Bleacher Report Live and marked Jon Moxley's first match with the organization.
Private Party vs. SoCal Uncensored vs. Best Friends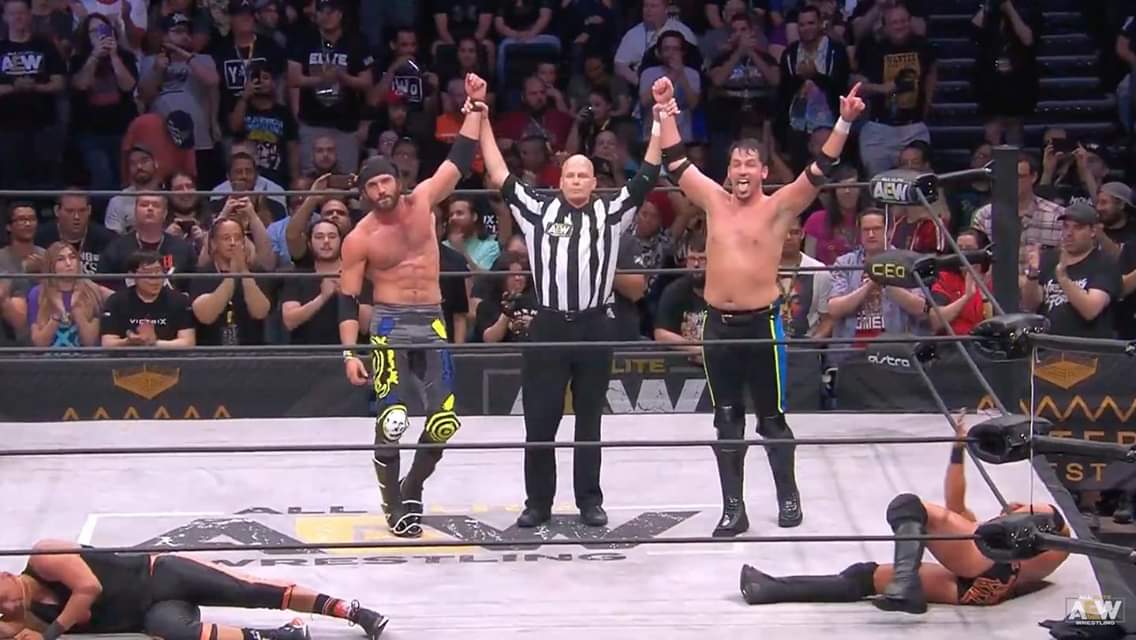 Almost immediately, Private Party captured the audience, demanding their support despite being the least known act in the match. This was met with some disrespect from SCU as all three teams were dishing out punishment to each other.
Kassidy was forced to tag in Kaz due to his partner's absence in a time of need. Everyone started throwing cutters topped off by a beautiful shooting star press from Mark Quen. The Best Friends nearly pinned Quen but SCU kept their chances alive, breaking up the pin. SCU followed up by attempting to take the pin themselves however Kassidy prevailed. The Best Friends caught Kassidy with some heavy knee strikes and Strike Zero for the win.
Following the match, The Dark Order exclaimed their interest in taking The Best Friends out. The lights flickered and they appeared surrounding the ring, staring. The lights went black once more and they were gone.
Result
Best Friends defeated SCU & Private Party
Grade
A-
Analysis
This was a great opening match that got the crowd going. This match was designed to get Private Party over and it did just that. They instantly made just about everyone watching a fan of their work. The Best Friends got the relatively shocking win here, seemingly setting them up for The Dark Order. The Dark Order segment was a bit flat but it's too abrupt to really judge their work.
[adace-ad id="19218″]
[adace-ad id="7797″]
Allie vs. Leva Bates
Before the match, Bates and Peter Avalon told the audience to read more books. Leva tried to shush Allie but her finger was snatched and stomped on. Allie now stuck her finger up, shushing the librarian herself.
Allie got things going with a crossbody and a near-fall. She continued before getting grabbed by Avalon and distracted, allowing Leva to catch her with a dropkick. Back in the ring, Leva continued her offence, with a nice Northern Lights Suplex. Allie attempted a hip toss, but Leva applied a nasty submission, shushing her challenger in the process.
Allie changed the pace with a big neckbreaker, knocking both girls down. Allie connected with big forearms and chops, finishing off with her patented sliding elbow to the sitting Bates for a two count. Leva dodged the BSE and nailed a backstabber, followed by a pedigree for a near-fall.
She attempted another pin immediately to no success. Avalon came onto the apron for assistance but overthrew a book landing directly in Allie's hands. Allie threw it to Leva but met her with a BSE as well, winning the match.
Result
Allie defeated Leva Bates
Grade
D
Analysis
This match was not very good at all. The crowd was dead, the action was slow, and the librarian gimmick just isn't entertaining. It's early so we won't completely rule it out but it's certainly not a favorite.
[adace-ad id="3395″]
[adace-ad id="7795″]
Alex Jebailey vs. Michael Nakazawa
Michael Naka-Naka-Nakazawa came out to a good pop followed by CEO of CEO, Alex Jebailey. Nakazawa baited Jebailey into sharing his previously injured leg. Jebailey showed off some old school offence until Nakazawa slipped right out with his baby oil. Jebailey came after him but slipped on the oil. They brawled on the outside until coming back in with a CEO Fight Stick. They went towards the swimming pool at the top of the stage, leading to a chlorine mist from Nakazawa. Jebailey sent him right into the water with a scoop slam.
Jebailey received a huge pop for dragging out a table on the outside. Nakazawa began strangling him with a controller before being separated. He set Jebailey up on the apron and crashed into with a spear through the table on the outside.
Looking for revenge, Nakazawa continued inflicting pain on the CEO. Jebailey came back with a German Suplex that nearly took his head off. Jebailey back body dropped Nakazawa on some gaming buttons before Nakazawa accidentally sent his thong into Bryce Remsburg's eyes. Jebailey kicked him right between the legs rolled him up. The ref's delayed response allowed Nakazawa to apply his thong to the CEO, knocking him out for the 1-2-3.
Result
Michael Nakazawa defeated Alex Jebailey
Grade
C+
Analysis
This was a fun comedy match with some hardcore, brutal spots. Jebailey took some nice bumps for a non-wrestler and showed plenty of passion for his work.
[adace-ad id="4959″]
[adace-ad id="7792″]
Christopher Daniels vs. CIMA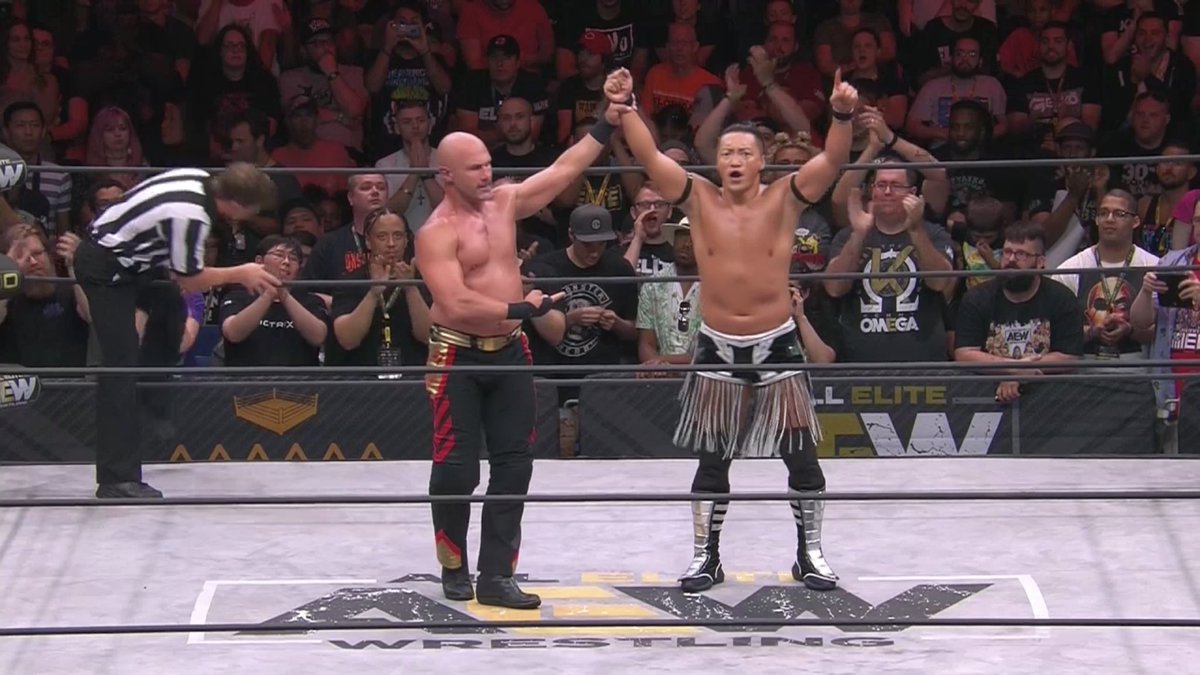 For the first main card bout, Christopher Daniels and CIMA faced off in a battle of ageless wonders.
CIMA started off hot against Daniels, tagging him with flashy strikes and submissions that he couldn't catch. Eventually Daniels caught up, shifting the momentum and delivering some heavy damage to the back of CIMA. This attack would go on to haunt CIMA as he struggled lifting his opponent who continued to pound away. Daniels connected with his signature Blue Thunder Bomb and Angels Wings for an unfortunate near fall.
The two men would go back and forth with CIMA fighting through the pain and nailing his Meteora on a grounded Christopher Daniels for the 1-2-3.
Result
CIMA defeated Christopher Daniels
Grade
C+
Analysis
This was a solid opener that made both men look good. The win for CIMA gave him some momentum for his big match with Kenny Omega at Fight for the Fallen.
[adace-ad id="19210″]
[adace-ad id="19202″]
Yuka Sakazaki vs. Riho vs. Nyla Rose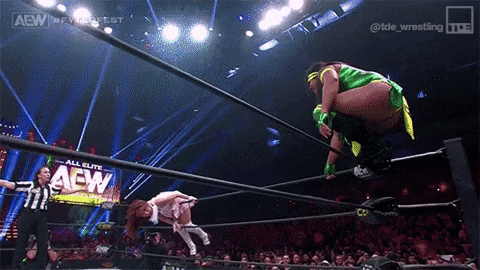 The second women's match-up featured Riho and Yuka Sakazaki attempting to neutralize the raw power of Nyla Rose.
The story was clear immediately with both smaller girls trying to get some offence going on Rose. The disadvantaged women attempted double team maneuvers only to be flattened. Soon both girls became enemies with their alliance disbanded following the momentary elimination of Rose.
Rose would continue coming in and out, eating more and more shots from Riho and Sakazaki. Finally, she got back on track with a big slam. Rose wowed fans with athleticism when she connected with a flying knee on Riho. She would follow up with a senton but came up empty.
Rose soon became frustrated with the smaller opposition, attempting her Beast Bomb but getting rolled up instead for a tough loss to Riho. Rose would then attack the winner only to be stormed off by Yuka Sakazaki.
Result
Riho defeated Nyla Rose & Yuka Sakazaki
Grade
A
Analysis
This was a great match, which had the fans on the edge of their seat. A much better performance from Nyla, allowing her to really shine next to the Joshi stars. This was the perfect match for her and the storyline seems like it can really bring out her strengths.
[adace-ad id="19212″]
[adace-ad id="19204″]
Hangman Page vs. Jungle Boy vs. Jimmy Havoc vs. MJF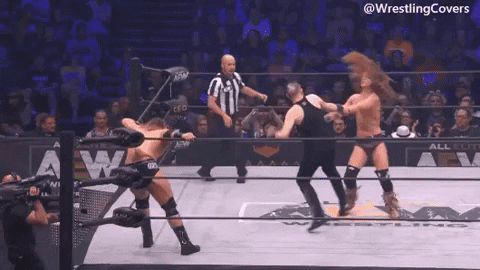 MJF came out to some huge heat before mocking the fans on the microphone. Jungle Boy entered next, riding Luchasaurus. Jimmy Havoc came out next to a good pop followed by the loudest ovation for Hangman Page, who had a ton of pyro. Kip Sabian joined the commentary table, as the fourth commentator.
Determined to win, MJF talked a big game and attempted to avoid damage. Obviously, this was impossible leading to a big dive from Hangman. Jungle Boy followed up with some insane high flying that really got the crowd going. Of course, we got the Tower of Doom spot which MJF got the worst of. MJF's bad run didn't end there when Hangman locked in a sharpshooter, as a call back to Double or Nothing when MJF threw some verbal jabs at Bret 'Hitman' Hart.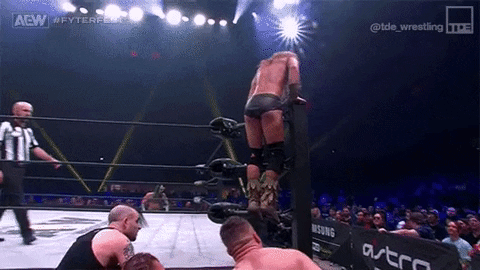 Jimmy Havoc made his way into the ring only to be taken out by Hangman, who nailed Buckshot and Dead Eye for the win.
Result
Adam Hangman Page defeated Jimmy Havoc, MJF & Jungle Boy
Grade
B
Analysis
This was a good match that advanced the angle between MJF and Hangman. It should be interesting to see how the feud continues with Hangman's clash with Jericho.
[adace-ad id="19214″]
[adace-ad id="19206″]
Cody vs. Darby Allin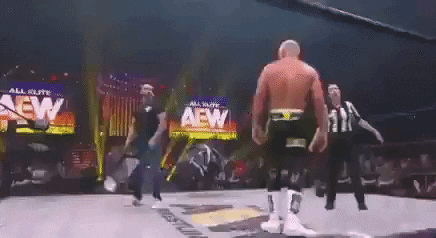 Early on, Cody was able to use his power against the smaller Allin. This was a fresh style for the EVP of AEW, as he continued to toss him around. Allin would use his speed and agility to tie the star up in some submissions and connect with a beautiful suicide dive.
The match was dragging but Allin revived the crowd with a jaw-dropping bump, back first on the apron. Five minutes remained and Cody became irritated that the smaller Allin was still fighting. Cody tried and tried, even nailing a Cross Rhodes, but it was too late. Allin pushed Cody to the limit and time expired. After the bell, Shawn Spears appeared, drilling Cody with an unprotected steel chair headshot.
Result
Draw
Grade
C+
Analysis
This match dragged in the middle with the weird dynamic but things really picked up in the latter portion. Shawn Spears coming out was random enough but a steel chair to the head was wild. Of course this will be met with controversy, which is likely why it was done.
[adace-ad id="19216″]
[adace-ad id="19208″]
The Elite vs. The Lucha Bros and Laredo Kid
The trios got off to a hot start, launching themselves with dives immediately. They traded superkicks and suplexes for a bit, with the crowd loving every second. Laredo Kid scored the hot tag to Pentagon, where everything broke loose.
Fenix was sent on a flip over the corner to the outside onto Nick Jackson in a crazy spot. The trios met in the middle of the ring trading more shots. Fenix later caught Nick Jackson with a Spanish Fly to the floor. Soon after, Kenny Omega took Laredo Kid and nailed all of his signature moves including One Winged Angel for an Elite win.
Result
The Elite defeated The Lucha Bros and Laredo Kid
Grade
A
Analysis
This was a great match with some expected but welcomed insanity. The spots were great and it was nice to see a guy like Laredo Kid get a spotlight around those established stars.
[adace-ad id="19218″]
[adace-ad id="7797″]
Jon Moxley vs. Joey Janela
Well, THIS WAS NUTS. Moxley didn't waste time in getting back into the hardcore industry, introducing a barbed wire chair very early on. He was sent into this deadly weapon courtesy of The Bad Boy on a rana. Moxley soon got his revenge, crushing Janela with a spear into the wedged table in the corner. Moxley felt something similar, when Janela sent him into a barbed wire board in the corner.
Janela went full Hardys and went for a ladder and some tables. He positioned Moxley on the table outside and began climbing. He came back down with an elbow right through Moxley and the tables.
Back inside, another barbed wire board was added, with the inclusion of thumbtacks. The board was made into a bridge, which Janela was driven through on the outside. Mox would top everything off by exposing the bare feet of Janela and driving them straight into the thumbtacks. Janela responded with a bird and ate a Death Rider onto tacks for a brutal pin. After the match, Kenny Omega appeared, attacking Jon Moxley.
Result
Jon Moxley defeated Joey Janela
Grade
A
Analysis
This match was wild but what we all wanted. This felt like the death of Dean Ambrose and the birth of Jon Moxley. Seth Rollins saying that Moxley took his ball and went home is utterly laughable at this point. Much like the other matches on this card, this allowed a guy like Janela to really shine under the spotlight and boy did he.