WWE's Extreme Rules was an excellent display of professional wrestling and sports entertainment.
There were high quality matches from a wrestling standpoint, and some of the best pure entertainment matches in the PPV. Overall, the PPV delivered and hit all the right notes, with the right superstars winning their matches.
We look at a recap of the show and analyze what went wrong and what went right for WWE with Extreme Rules.
WWE Intercontinental Championship: Finn Balor [c] vs Shinsuke Nakamura
A late addition to the PPV, Finn Balor faced Shinsuke Nakamura in a rematch from SmackDown Live in the kickoff show of Extreme Rules. Both the competitors took part in a hard-hitting contest on Tuesday and continued their rivalry with the championship match. Their match was aggressive overall, and Nakamura hit a Kinshasa to win his first Intercontinental Championship.
Result: Shinsuke Nakamura defeated Finn Balor to become the new IC Champion
Grade: B+
Analysis: A great way to kickoff the show even though it is unclear why such a high profile match was moved to the kickoff segment. A singles push for Shinsuke Nakamura is an interesting move. Finn Balor would feel hardly done with his reign lasting over two months with no remarkable feuds or moments. It would be interesting to see what Nakamura does with the Intercontinental Championship, a title he made prestigious during his time with NJPW.
[adace-ad id="7797″]
[adace-ad id="7797″]
WWE Cruiserweight Championship: Drew Gulak [c] vs Tony Nese
The next match on the pre-show saw the superstars of 205 Live produce yet another hard-hitting encounter. Drew Gulak, the hometown hero, and former Cruiserweight Champion Tony Nese had a fast-paced match which finished with Gulak hitting the Cyclone Crash to retain in under eight minutes.
Winner: Drew Gulak defeated Tony Nese to retain the Cruiserweight Championship
Grade: B
Analysis: Drew Gulak is an exceptional wrestler and has hardly disappointed inside the wrestling ring and there was no way WWE were going to make Gulak lose in front of the home crowd. He retained his purple strap and would look for new competition this Tuesday on 205 Live.
[adace-ad id="3395″]
[adace-ad id="7795″]
No Holds Barred Match: Drew McIntyre and Shane McMahon vs Roman Reigns and The Undertaker
Undertaker wrestled his first match since the disastrous encounter against Goldberg in Saudi Arabia. The match followed the typical Roman Reigns match trope, with Reigns getting smacked by the heels for the first half.
Elias interrupted mid-match and attacked 'Taker which gave the heels, control of the match for a while.
Undertaker took a hot tag and ran wild before Shane McMahon decided to bust out his elbow through the table and Coast to Coast maneuvers. The Deadman delivered a chokeslam to Shane followed by another one to Elias.
Roman Reigns speared McIntyre and Undertaker delivered a Tombstone Piledriver to finish things off.
Result: Undertaker and Roman Reigns defeated Shane McMahon and Drew McIntyre via pinfall
Grade: B+
Analysis: The match ended up being better than anyone expected, and Undertaker proved he still got it albeit for a shorter match. If WWE intends to use Undertaker as an attraction for major shows, they should understand he can't wrestle full-fledged singles matches anymore. A feud between McIntyre and Undertaker was teased and it remains to be seen if it becomes a reality.
[adace-ad id="4959″]
[adace-ad id="7792″]
WWE Raw Tag Team Championship: The Revival [c] vs The Usos
Two excellent tag teams fought for a poorly booked championship. Both these teams are arguably the best in the tag team division of WWE, and they prove it every time they are given time together.
The match had the standard heels cutting off the face teams before Usos rallied to bring in some amazing offense and at one point, looked set to win their first RAW championships. However, Revival hit a shatter machine to end the match and retain their championships.
Result: The Revival defeated The Usos to retain the Raw tag team titles
Grade: A-
Analysis: These teams can hardly do anything wrong, and they once again proved their worth. WWE needs to fix the RAW Tag Team Division as soon as possible to ensure Revival has credible challengers in the future.
[adace-ad id="19210″]
[adace-ad id="19202″]
Aleister Black vs Cesaro
Aleister Black wrestled his first singles match in quite some time, and he had a credible challenger in the form of Cesaro. The only match on the show with no stipulations or titles on the line, the match several quality moments. Cesaro displayed his freakish strength once again by throwing black around, but Black eventually won the match with the Black Mass.
Result: Alesiter Black defeated Cesaro via pinfall
Grade: A-
Analysis: Fantastic match from a technical standpoint, as both Cesaro and Black are hard hitters who move like ninjas. Cesaro predictably lost against Black, but proved his mettle in the singles division and deserves a shot at a singles championship in the future. WWE has a gem of a superstar in the form of Black, and they should ensure Black gets the perfect booking on the main roster.
[adace-ad id="19212″]
[adace-ad id="19204″]
Handicap Match for SmackDown Women's Championship: Bayley [c] vs Alexa Bliss and Nikki Cross
The match was centered around the story that Bayley was outnumbered by her heel competitors. Bayley is a natural babyface and excels in this role similar to John Cena. She brought her newfound aggressive attitude towards the end and won the match after a diving elbow to Nikki Cross.
Result: Bayley defeated Alexa Bliss and Nikki Cross to retain the SmackDown title
Grade: B+
Analysis: WWE has done a fine job of Nikki-Alexa-Bayley storyline with a face, a heel and a tweener in Cross. The match overall was enjoyable and Bayley retaining was the absolutely correct decision. Hopefully, Bayley moves onto new challengers from the SmackDown Women's Division now.
[adace-ad id="19214″]
[adace-ad id="19206″]
Last Man Standing Match: Bobby Lashley vs Braun Strowman
A throwback to the Hardcore matches of Attitude Era, Bobby Lashley, and Braun Strowman starred in yet another monster duel. Their match on RAW two weeks ago was exceptional and this was even better. They brawled all over the arena with Braun Strowman eventually powerslamming Lashley from several feet off the ground all the way to the floor to keep him down for the 10 count and win the match.
Result: Strowman defeated Lashley
Grade: A-
Analysis: The match was not a masterclass in wrestling but was the perfect sports entertainment match. Both the superstars had arguably their best matches on the main roster and kudos to WWE for allowing the two behemoths to do what they do best.
[adace-ad id="19216″]
[adace-ad id="19208″]
WWE SmackDown Tag Team Championship: Daniel Bryan and Rowan [c] vs Heavy Machinery vs The New Day
The three teams have had an entertaining rivalry leading to the PPV and their match provided the same kind of enjoyable value. All three teams did what they usually do, with great moments between Big E and Daniel Bryan. Big E caught Daniel Bryan and delivered a Midnight Hour to win yet another Tag Team Championship. The third member of New Day, Kofi Kingston came out to celebrate with his brothers as all the members of New Day were crowned champions.
Result: New Day defeated Bryan and Rowan and Heavy Machinery to become the new champions
Grade: A
Analysis: This match was the perfect example of booking a match which makes sure all the superstars come out looking like a million bucks. All three teams provided ample entertainment and great wrestling overall. The match of the night.
[adace-ad id="19218″]
[adace-ad id="7797″]
WWE United States Championship: Ricochet [c] vs AJ Styles
AJ Styles had his usual slow-paced match which we are used to seeing of him nowadays. Ricochet tried to pick up some pace but was dragged down due to Gallows and Anderson playing interference. Styles won with an avalanche Styles Clash and became the new United States Champion.
Result: Styles defeated Ricochet to become the new US Champion
Grade: B
Analysis: Not a particularly spectacular match, which also had a very dead crowd throughout. WWE's decision to take the title off Ricochet so soon is strange and would be interesting to see where both these guys head to after Extreme Rules.
[adace-ad id="3395″]
[adace-ad id="7795″]
Dolph Ziggler vs Kevin Owens
What just happened???!!! Yet another last moment match-up, in which the entrances lasted more than the match itself. Dolph Ziggler lost after Stone Cold Kevin Owens gave a stunner.
Result: Owens defeated Ziggler
Grade: D
Analysis: The match may have gone for a total of sixteen seconds but it spoke volumes about both guys' future in WWE. Kevin Owens is being built up as the next rebellious face ala Stone Cold and CM Punk while former World Champion Ziggler will probably take another leave after this.
[adace-ad id="3395″]
[adace-ad id="7792″]
WWE Championship: Kofi Kingston [c] vs Samoa Joe
Kofi Kingston, the underdog babyface, faced off against Samoan Submission Machine Samoa Joe, who has lost seven straight matches for the championship.
Samoa Joe and Kofi Kingston had decent chemistry overall but didn't produce a magical encounter the way Bryan and Kofi did. Kofi retained with a Trouble in Paradise to end the rather underwhelming match-up.
Result: Kofi Kingston defeated Samoa Joe to retain the title
Grade: B
Analysis: Samoa Joe's poor booking continued as he lost yet another championship match-up. It is difficult to buy Samoa Joe as a credible challenger if he keeps on losing such matches. Kofi's reign continues, as he is yet to be pinned ever since he became champion.
[adace-ad id="5206″]
[adace-ad id="19202″]
Winners Take All Match for the Universal Championship and RAW Women's Championship: Baron Corbin and Lacey Evans vs Seth Rollins (c) and Becky Lynch(c)
Baron Corbin has never delivered an exceptional match and the story continued at Extreme Rules. Yet another PPV with Corbin in the main event. The much hyped main event had an extreme rules stipulation attached to it which wasn't used to it's fullest.
The most shocking moment of the contest occurred when Corbin delivered End of Days to Lynch, sparking a rage and fire in Rollins. The Architect unloaded on Corbin with kendo sticks and chairs. Rollins delivered three consecutive Curb Stomps to retain the title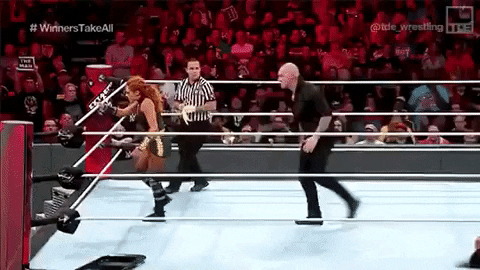 Brock Lesnar showed up and cashed in his Money in the Bank contract and became Universal Champion for the third time!
Result: Rollins and Lynch defeated Corbin and Evans to retain their titles. Lesnar cashed in on Rollins to win the Universal title
Grade: B+
Analysis: No matter how good Seth and Becky are, it is difficult to carry Baron Corbin and Lacey Evans to a good match. WWE will hopefully end Baron Corbin's stay in the main event, and move him back to midcard where he belongs. Brock Lesnar winning the championship was inevitable and hopefully WWE book this reign better than the previous two.
Watch the complete kickoff show below: