WWE's premier event to kick off 2021, Royal Rumble took place from the Thunderdome at the Tropicana Field, with the two Rumble matches being the star attraction. As is the case with the Rumble matchups, there were surprises, returns, and excitement overall.
While the Women's Rumble had more of a new, energized feel, the Men's Rumble turned back the clock with several Ruthless Aggression Era legends. With Rumble officially being the start of the WrestleMania season, expect several of the storylines which popped up during the event to last until April at the least.
The card wasn't filled to the brim, with just three matches on the main-card apart from the Rumble events.
Kickoff | WWE Women's Tag Team Championship | Asuka and Charlotte Flair(c) vs. Nia Jax and Shayna Baszler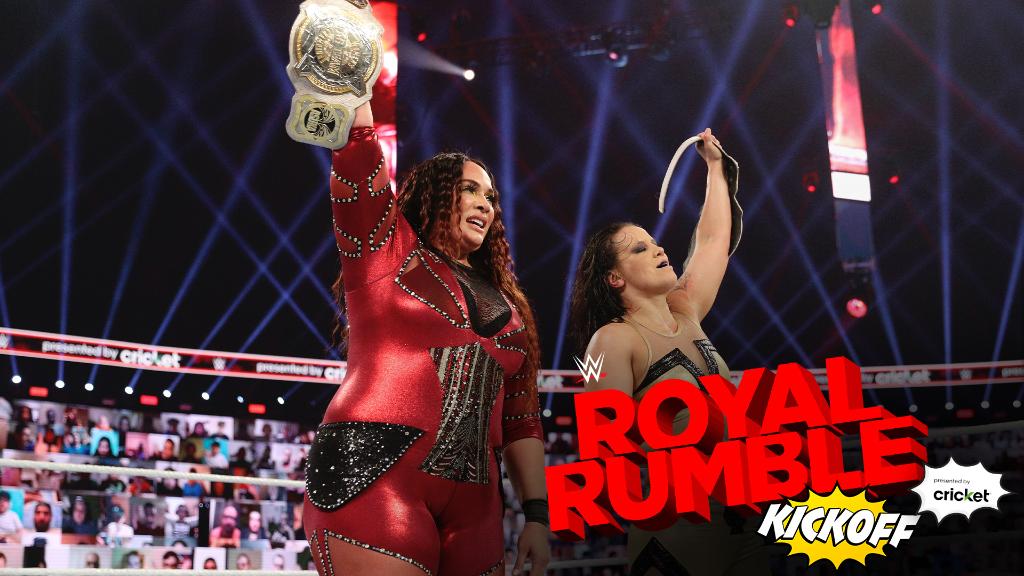 The champions got off to a great start on the pre-show matchup, as the RAW Women's Champion attacked Jax while Flair went after Baszler. Slowly the heels got back in the match as they took out Asuka from the equation.
Flair received the hot tag and ran wild, hitting several of her signature moves, before Ric Flair's music hit and distracted her. Flair was attacked by Lacey Evans at ringside while she locked in the Figure Eight lock. Ric handed over a 'weapon' to Evans, who hit Flair with a Women's Right with the weapon in her fist, allowing Jax to hit the Leg Drop on the Queen for the win.
Results: Nia Jax and Shayna Baszler become the new Women's Tag Team Champions
Grade: B
Analysis: It was a standard match with quite an expected result. Jax and Baszler were always going to reclaim their titles, but the Asuka-Flair rivalry never materialized. It is a trope that WWE often uses but smartly avoided this time, allowing Flair to get in a rivalry with the Sassy Southern Belle instead.
It will be interesting to see where Asuka goes from here, as she was often overshadowed by Flair during most of their title run
WWE Championship | Drew McIntyre(c) vs. Goldberg
The action kicked off outside the ring, with McIntyre delivering a Glasgow Kiss. The Hall of Famer recovered to hit a spear through the barricade. Both the participants entered the ring where the match officially started, as the champion hit a Claymore but to no avail. The former Universal Champion delivered two more spears, and a Jackhammer but couldn't keep the Scottish star down. McIntyre turned it around to hit another Claymore to retain the title.
Results: Drew McIntyre retains WWE Championship
Grade: D
Analysis: The match went down as expected, with WWE thankfully not screwing another younger star to crown Goldberg for the second year in a row. WWE is clearly pushing McIntyre as the main guy of the company, with wins over legends like Big Show, Goldberg, Randy Orton, etc. The match felt like a farewell to Goldberg, which was his only fourth clean loss in WWE ever. The post-match camaraderie seemed like a goodbye for the 54-year-old superstar, who is very well past his prime.
WWE Smackdown Women's Championship | Sasha Banks(c) vs. Carmella
Sasha Banks got the momentum in the early part of the match, before interference from Carmella's sommelier, Reginald, helped the challenger to get back into the match. The Princess from Staten Island delivered some blows to the champion, who recovered to hit a Meteora but ended up hurting her own knee in the process.
Carmella threw Banks to the outside where Reginald caught her, but Banks ended up hitting him with head scissors. A botched suicide dive by Carmella followed, and she blocked a frog splash to apply the Code of Silence to almost win the title. The Boss survived and ended up locking the Banks Statement to win the match.
Result: Sasha Banks retains SmackDown Women's Championship
Grade: B+
Analysis: The two stars have had a fun feud if nothing spectacular, and WWE took the right decision by having Banks win the match. Carmella has come a long way from being a mediocre wrestler with great mic skills and presented herself well with one of the best wrestlers in the company currently. Banks continued her top-notch run ever since her return in Summer 2019 and is slowly carving out a great title run with the blue belt.
Women's Royal Rumble
Bayley and the returning Naomi kicked off the fourth Women's Royal Rumble match. Bianca Belair joined at #3 and had a sloppy spot with Naomi. Billie Kay entered next at #4, but chose to sit with the announce team instead of joining the fray. Shayna Baszler and NXT stars Shotzi Blackheart & Toni Storm entered next, all of whom rejected Kay's request of teaming up.
Blackheart was the first one to be eliminated as Baszler took her out. Surprise entrant Jillian Hall agreed to team up with Kay, so did Ruby Riott and Peyton Royce. Victoria entered at #10, but she got eliminated by the IIconics.
Santana Garett from NXT entered at #12, while Rhea Ripley joined at #14. Liv Morgan entered at 13th spot and joined forces with Riott and Kay to take out Hall, before Riott Squad eliminated Kay. Ripley took out her long-time rival Storm. Charlotte Flair entered and was followed by Lacey Evans, who came out to Ric Flair's music wearing Flair's robe. Mickie James, Torrie Wilson, and Alicia Fox made their returns, with Fox pinning R-Truth to win the 24/7 title.
Rhea Ripley, Bianca Belair, and Shayna Baszler continued to dominate until Baszler was eliminated by her partner Nia Jax, who was in turn eliminated by the returning Lana. Flair, Belair, Ripley, and #30 entrant Natalya were the final four, with Belair eliminating Natalya. Ripley and Belair eliminated Flair, and then had a battle with several close eliminations before Belair delivered a clothesline to eliminate Ripley and win the Rumble.
Result: Bianca Belair wins the Women's Royal Rumble
Grade: B+
Analysis: This was a well-executed Rumble match, with a good mix of surprises and returns overall. Ripley and Belair getting the chance to be the final two participants, despite them being relatively inexperienced. Victoria was a nice surprise, as she has often been missed during the RAW Reunion and Legends night.
Last Man Standing Match | WWE Universal Championship | Roman Reigns(c) vs. Kevin Owens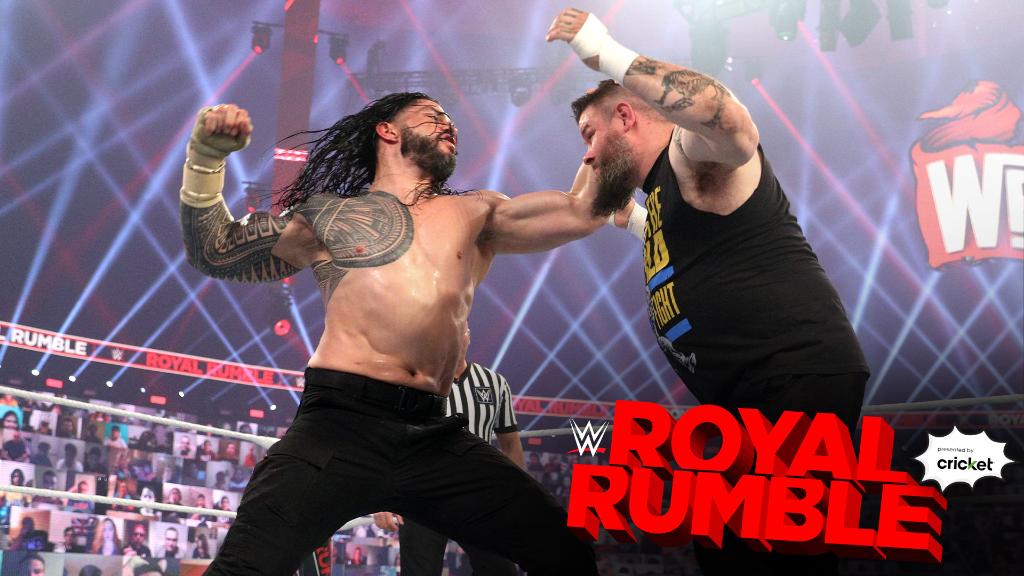 The two stars immediately started brawling as the champion hit the Superman Punch. Owens dodged a spear to nail a Popup Powerbomb, but ended up eating a spear on the outside, Owens somehow stood up from the attack, only to be ushered with even more chair shots and steel steps from the Tribal Chief. Owens resisted and used a chair of his own to attack Reigns, but the Big Dog dropped him from a platform onto several tables. Owens barely made it up at the nine-count, which left Reigns frustrated.
Reigns ran over Owens with a golf cart backstage, but Owens found some momentum and delivered a powerbomb through a table, a frog splash, and finally used a forklift to deliver a Swanton Bomb from the top. Owens handcuffed Reigns after eating a spear, but Reigns intelligently pulled the referee to avoid being counted out.
After Heyman unlocked Reigns' handcuffs, The Tribal Chief ended up locking Owens in a guillotine lock to win the match and retain his title.
Results: Roman Reigns retains Universal Championship
Grade: A
Analysis: The third match in their saga was arguably the best one so far, as both the stars displayed their aggression and intensity in the best title match of the evening. While Goldberg vs McIntyre was more of a friendly rivalry with both being babyfaces, this was a case of a treacherous heel taking on a fighting babyface, who was willing to take one assault after another to win the match. Overall, it was a fantastic encounter and Reigns should continue to hold the belt for as long as possible.
Men's Royal Rumble
Edge and Randy Orton kicked things off, as the brawl started right outside the ring. Several heels entered the match, as Orton was forced to move out due to a leg injury after Edge dropped him on the table with a DDT and attacked him with several chair shots.
Mustafa Ali, Dolph Ziggler, and Sami Zayn attacked the Hall of Famer Edge, before superstars like Shinsuke Nakamura and Jeff Hardy entered to even it out. Carlito returned at #8 as a surprise spot and had a brief moment with Nakamura, who took away his apple. Xavier Woods and Big E entered one after the other, and several other mid-carders like Elias, Morrison, and Miz joined the fray. Damian Priest made his entry at #14 and immediately took out several stars with his huge frame. Riddle and Daniel Bryan entered at #16 and #17, while The Big Red Machine, Kane, entered his 18th Rumble at the 18th position. Bryan and Kane had a mini Hell No reunion before Kane chokeslammed Byran. Kane became the fourth participant to be eliminated by the ravaging Priest. The arrival of Lashley at #22 turned things around as the CEO of Hurt Business started an all-out assault and had a great interaction with Big E. Hurricane Helms was another surprise but got quickly dumped out by Lashley.
The final few spots were taken by former World Champions like AJ Styles, Sheamus and Rey Mysterio. Christian made a shocking return after seven years at #24, and had a great heartfelt moment with Edge. Seth Rollins entered at #29 after spending time away due to paternity leave, and stayed outside for a while, before taking out Daniel Bryan. Edge and Christian took out Braun Strowman who entered at #30 and created havoc before Rollins eliminated Christian. Edge dumped out Rollins quickly but was hit with an RKO by the returning Orton. Edge recovered and threw out Orton, to win his second Rumble, exactly eleven years since he first won.
Result: Edge wins Men's Royal Rumble
Grade: A+
Analysis: This was a star-studded Rumble with several noteworthy returns and surprises, with Edge winning from the #1 spot being a fantastic story overall. The 47-year-old veteran, who returned after a career-ending neck injury, lasting nearly an hour to win the Rumble was a great moment, and will surely help WWE bring back a lot of casual viewers.
There were some great performances in the Rumble such as Riddle and Damian Priest, with WWE taking a good step towards the future. The final few participants were some of the best talents in WWE currently, which showcased their depth but utilization of these superstars have left a lot to be desired.